Welcome to the Gracepoint Wiki, a site dedicated to providing up-to-date and comprehensive information about the new FOX series, Gracepoint! Fans and anyone interested in the series are welcome to help contribute. Enter the world of Gracepoint now with Episode 1.

See more characters >>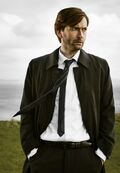 Emmett Carver is the lead investigator on a case of a shocking murder that puts a town under scrutiny. He is an outsider who must work with local detective Ellie Miller to find the culprit. There is some tension between the two since he received the promotion that Ellie thought she deserved.

Loading RSS data...

Ad blocker interference detected!
Wikia is a free-to-use site that makes money from advertising. We have a modified experience for viewers using ad blockers

Wikia is not accessible if you've made further modifications. Remove the custom ad blocker rule(s) and the page will load as expected.